Learn from the best - six Case Studies at SoundTrack_Zurich show very different paths to success: Oscar and BAFTA winner Volker Bertelmann (All Quiet on the Western Front), European Film Award winner Paweł Mykietyn (EO), Swiss Film Award winner Nicolaus Rabaeus (Foudre), French composer Emilie Levienaise-Farrouch (Living), composer Philippe Rombi (Visions) and Adi Frutiger (Early Birds) will be present at the conference to talk about their work in these projects, their careers and their oeuvre.
Case Studies

Friday 29 September 2023 · NZZ Lounge (Falkenstrasse 11)
12:30 - 13:30
Foudre
Composer Nicolas Rabaeus

14:30 - 15:30
EO (IO)
Composer Paweł Mykietyn
16:00 - 17:00
All Quiet on the Western Front
Composer Volker Bertelmann

Saturday 30 September 2023 · NZZ Lounge (Falkenstrasse 11)

15:00 - 16:00
Living
Composer Emilie Levienaise-Farrouch

16:30 - 17:30
Visions
Composer Philippe Rombi

Sunday 1 October 2023 · ZHdK · Toni-Areal · Pfingstweidstrasse 96 · Raum 3.K17 (Dolby Atmos Studio)

11:00 - 13:30
Early Birds
Composer Adi Frutiger
Foudre - Nicolas Rabaeus
Elisabeth is 17 years old when, due to the death of her older sister, she is forced to leave the convent where she had hoped to take her vows and where she has lived for five years. The mysteries surrounding her sister's death haunt her as she struggles internally between faith and desire. The Swiss Film Award winner Nicolas Rabaeus, composer of Foudre, will talk on the 29th of September about his work for this film set in the Swiss summer of 1900.
Nicolas Rabaeus
Known for his versatility and fast working pace, Nicolas Rabaeus has collaborated with many European and Swiss filmmakers on over fifty projects: feature films, series, documentaries and shorts. His music has been celebrated in many festivals and has been nominated for numerous awards. 
Nicolas, who studied jazz music in Paris (IMEP) and classical music in Geneva (HEM), has been working as a composer for more than fifteen years, specializing in music for the moving image. Nominated in 2020 for the Swiss Film Prize for his Beyond Horizon score, Rabaeus won the award in 2023 with Foudre.
He has taught "Music in Cinema" at the HEM Geneva and teaches ear training at the HEMU Lausanne.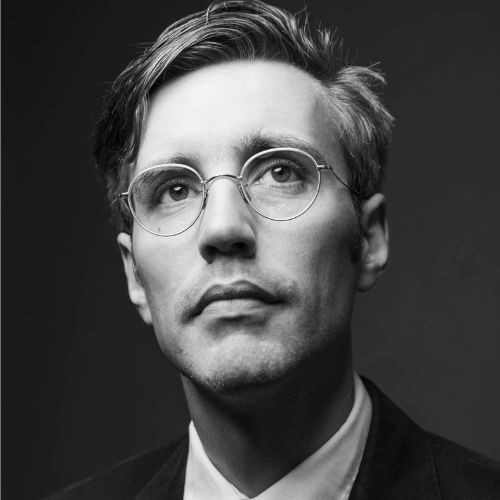 EO (IO) - Paweł Mykietyn
A donkey's journey across Europe from owner to owner allows him to experience cruelty and kindness in equal measure. EO, directed by Jerzy Skolimowski, shows what humans are like from an animal perspective. On Friday, 29th of September, the film's composer Paweł Mykietyn, will share details about the work that won him the European Film Award 2022. On the same day at 19:00, Mykietyn will participate in the special screening of EO with Live-Commentary.
Paweł Mykietyn
Paweł Mykietyn is a film composer and the musical director of Nowy Teatr, Warsaw. 
In the 1995, he won first prize in the young composer's category at the UNESCO International Rostrum of Composers in Paris. 
Mykietyn is the author of two operas and numerous symphonic, chamber, vocal and electronic compositions. Starting in 1996, he composed the musical scores for the majority (28 in total) performances directed by theatre and opera director Krzysztof Warlikowski, founder and artistic director of Nowy Teatr in Warsaw, including Tancerz Mecenasa Kraykowskiego at Teatr Powszechny in Radom (1997). 
In 2001, he was awarded the Culture Prize of the Silesian Country of Lower Saxony. He received the Prix France Musique Sacem in 2012 for the music he composed for J. Skolimowski's feature film Essential Killing. In 2022, he was awarded the Cannes Soundtrack Award and the Excellence Award from the European Film Academy for the soundtrack of EO. 
All Quiet on the Western Front - Volker Bertelmann
The four Oscar-winning film All Quiet on the Western Front, which chronicles the harrowing experiences of a 17-year-old German soldier who enlists in the German Army to participate in the First World War, will also be a case study of the fourth edition of STZ. Volker Bertelmann, aka Hauschka, the film's composer, who won the Oscar and the BAFTA 2023 for Best Original Score, will talk about the secrets behind his score for this film and his career. 
Volker Bertelmann
Bertelmann, who in his solo work goes by the name Hauschka, is a uniquely innovative pianist; he is renowned for his trademark sound, which he achieves by preparing the piano with various small objects, and his ability to improvise entire performances. His output is prodigious: he tours extensively and has produced over twenty albums and EPs, both solo and in collaboration with others. Among many others, he has worked with the MDR Leipzig Radio Symphony Orchestra, where he was the artist in residence, with Múm, the Icelandic experimental musical group, and with the Grammy-winning violinist Hilary Hahn.
Bertelmann (*1966) is an active Academy of Motion Picture Arts and Sciences member.
His score for Lion, which he composed in collaboration with Dustin O'Halloran, was nominated for multiple awards, including Oscar for Best Original Score, Golden Globe for Best Original Score, and Best Film Music at the BAFTAs. He has provided music for several leading films and television series, including the score for Patrick Melrose, Showtime's Emmy- and BAFTA nominated mini-series, and for Gunpowder, the HBO mini-series starring Kit Harington, and the 2020 film Ammonite, co-composed with O'Halloran, which received a spot on the Oscar shortlist for Best Original Score.
Living - Emilie Levienaise-Farrouch
The multi-nominated film, directed by Oliver Hermanus, tells the story of a civil servant who, in 1950s London, decides to change the course of his life after receiving a devastating medical diagnosis. This adaptation of the screenplay of Ikiru (1952) was scored by Emilie Levienaise-Farrouch, who received the Girls on Film Awards and Hollywood Music in Media Awards for the music in this film. 
Emilie Levienaise-Farrouch
Emilie Levienaise-Farrouch is an Ivor Novello, BIFA nominated, and HMMA-winning composer and artist living in London. Emilie has scored the BAFTA, Golden Globe and Oscar-nominated feature Living. 
Previous credits include The Forgotten Battle, which was the highest streaming film worldwide on Netflix during the weeks of its release, and Censor, released by MGM, with the score released on vinyl and digitally by Invada Records (The Power of the Dog, Monos, Moonlight). She scored Andrew Haigh's All of Us Strangers, starring Paul Mescal and Andrew Scott.
Emilie has collaborated with visual artists Danica Dakic, Alice May Williams and Natasha Caruana on music for video installations exhibited at Jerwood Project Space, Speke Hall, The ODI, and Arles Photo Festival. In 2013, she received the Emerging Excellence Award from the Musician Benevolent Fund, and in 2015, was commissioned to create a sound walk for London's Queen Elizabeth Olympic Park. She has been commissioned by multiple classical instrumentalists to compose pieces for their repertoire.
The composer has released three albums via the prestigious new classical imprint 130701 and has performed at the Union Chapel, Barbican and the BBC Proms. 
Visions - Philiipe Rombi
Directed by Yann Gozlan, Visions is a French psychological thriller from 2023, in which an affair between Estelle, a successful pilot, and Ana, her friend from her youth, upsets the whole environment Estelle had built with her husband. Unexpected events call into question the rationality of what is happening with the arrival of Ana. The music, key to this suspenseful film, was provided by renowned composer Philippe Rombi, who will be present at STZ to talk about this and the many film projects to which he has contributed his music.
Philippe Rombi
The celebrated French composer, conductor and film pianist, began his musical career at the prestigious Conservatoire National de Région de Marseille. His dedication paid off with numerous awards, including the First Prize for Orchestra Conducting, the Gold Medals for Piano and Chamber Music and the prized Grand Prix de la Ville de Marseille.
Philippe's first foray into film music began with the composition of short films. His talent soon caught the attention of producer Olivier Delbosc, which led to a fruitful collaboration with acclaimed director François Ozon.
His work in Joyeux Noël (Merry Christmas) in 2005, with the "Ave Maria" sung by Natalie Dessay, catapulted him to widespread recognition and earned him a César nomination in 2006. He received the award for best original score for Bienvenue chez les Ch'tis (2008) at the 5th International Film Music Critics Association (IFCMA) Excellence Awards in 2008.
In addition to composing and arranging, Philippe Rombi demonstrates his skills by conducting orchestras during recording sessions and occasionally performing solo piano pieces.
© Christian Rombi
Early Birds - Adi Frutiger
Annika (Nilam Farooq) and Caro (Silvana Synovia) are very different people. But a night out ends up bringing them together in the middle of a turbulent getaway. They have to hide from drug dealers and the police and survive the violent raid that many are planning to find them. This neo-noir-thriller has a high-level cast, among them Anatole Taubman (James Bond: Quantum of Solace, 96 Hours) and the German actress Nilam Farooq (Freibad, Du Sie Er & Wir).
Adi Frutiger
While working as a set designer, Adrian Frutiger had the chance in 1996 to compose the film score for Nacht der Gaukler (The Silence Within), which garnered him the prize of the International Film Music Biennale Bonn.
Since that time, he has composed the music for numerous cinema and television films such as Mein Name ist Eugen (My Name is Eugen) and Grounding, as well as documentary films, among them Sieben Mulden und eine Leiche (Seven Dumpsters and a Corpse) and Seed Warriors. His music has also been used for commercials, shows and animations.
Besides Early Bird, the series Davos 1917, also scored by Frutiger, will be presented during this year's edition of the Zurich Film Festival.